People resource profiles that you can assign to projects can be added from the Schedule page.
When you first log in and no people exist, a No People message displays.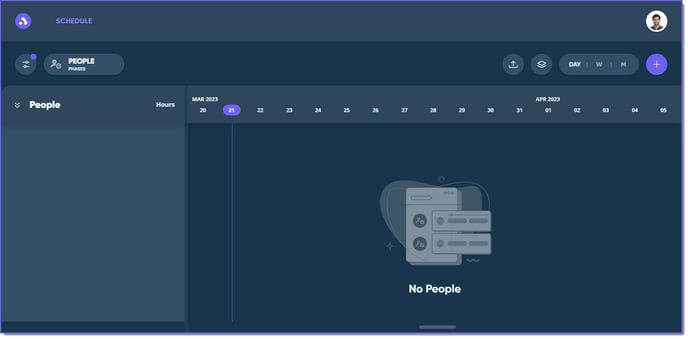 Step 1: Add New Person Profile
Select the Add button on the right side of the page.
Select Create New Person from the drop-down list.

Step 2: Enter New Person Information
When the New Person dialog displays, complete the fields.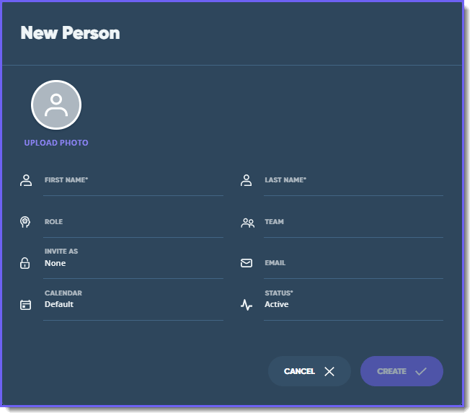 Only the First Name, Last Name and Status fields are required; but you must complete the remaining fields to invite a person to use Audere.
Required Fields
Enter the First Name/Last Name of the person resource. The full name will display on the Schedule.
Set the status for the new person. A new person defaults to Active but can be changed to Inactive in the Status drop-down list.

Active: The person holds one of the licenses, allowing them to use the application.
Inactive: The person does not hold one of the licenses and is unable to use the application.
Note: Once a person is scheduled, they cannot be deleted, but you can set them to Inactive to release a license for another resource. If a person is assigned to any projects, you should reallocate their assignments to their role or inactivate them.
Optional Fields
Select the person's role from the Role drop-down list.

See Adding a Role for more information or to add additional roles.

Select a person's team from the Team drop-down list.

See Adding a Team for more information or to add additional teams.

Enter the person's email address in the Email field.
Select Team Member, Resource Manager or Administrator from the Invite As drop-down list.
Select a work calendar for the person in the Calendar drop-down list.
Note: The Default Calendar is automatically selected, but can be changed if multiple calendars exist.
Step 3: Upload Resource Photo
See Adding a Photo to a Resource Profile for information on uploading an optional photo.
Step 4: Create and Save
Select Create when complete to save your person or Cancel to close the dialog without saving.

The person's name will now display in the list of people in the People

view on the

Schedule

page.
---
See Also:
Using the People Status Filter